Review: Splitfish FRAGFX SHARK Gaming Mouse
By Jayita, Gaea News Network
Thursday, December 23, 2010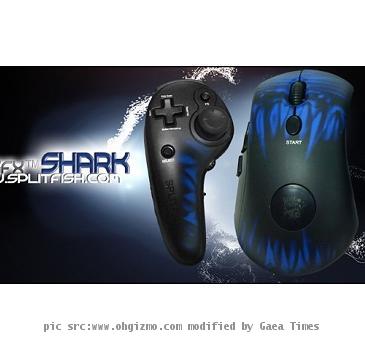 more images
Here I take the greatest privilege to introduce you with the awe-inspiring Splitfish FRAGFX SHARK gaming controller exclusively made for PlayStation 3, PC and Mac. Its a cool gadget for the Nintendo kid on Christmas.
ARTICLE CONTINUED BELOW
The SHARK is meant to be used with FPS games mainly, and apparently it does its job perfectly. It will offer a totally different gaming experience to you as it enhances gaming fortitude and accuracy, especially in FPS games.
The SHARK game package includes:
the gaming mouse
left-hand control pad
USB plug-and-play adapter
hard-bottom Splitfish mouse pad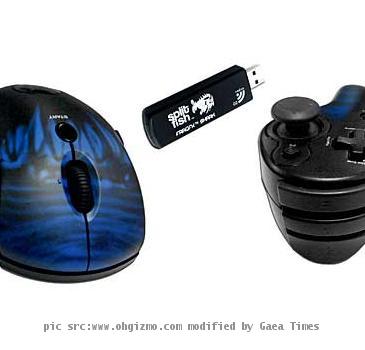 more images
The controller, at first glance appears a bit odd compared to other controllers. But what impress me is its plug-and-play ability. You just have to plug the USB adapter in and start playing instantly.
Key Features of this controller are listed below:
2 AA batteries (not included)
NEW 50h + play time
NEW 500h + power save standby
Mouse 1750 DPI resolution
Play with the mouse on the PS3 as you would do on a PC
Full PS3, PC and MAC support, either as a gamepad or mouse/keyboard control
Fast access to special features (eg macro, rapid-fire, button swap, stick swap, etc.)
Brand new wireless technology to 2.4 GHz
Plug and Play
NEW dead zone adjustment wheel
SixAxis support
Mouse:
SHARK comes with an excellent mouse pad that have hard bottom. So, setting the mouse is very easy wherever you wish to use it: in your lap or couch. The left and right mouse buttons corresponded to the "R1 and "R2 triggers on the PS3 controller, which was perfect for FPS games. With the triangle, square, circle, and x buttons located on the left side of the mouse, you can easily set your thumb for button-pressing.
Access to the "L1 and "L2 triggers are also easy. The small grip makes the controller feel easier to have in your control. The analog stick is topped with four ridges so that your left thumb set perfectly in the middle of the stick, allowing for easy movement, at the same time prevent thumb from slipping off of it.
On the analog controller you will find a d-pad, that is perfect for accessing menu options, and making changes to the controller on the fly.
Conclusion
With the SixAxis control and adjustable controls, button mapping, and sensitivity, the SHARK is perfect for any play style. Moreover, its a long lasting controller that takes only two AA batteries to operate and runs for 50+ play hours on a single battery set. I will definitely recommend for the SHARK controller, which you can buy for $89.99 only.