RIM announces PlayBook simulator for their Tablet OS and the availability of SDK for BlackBerry Tablet OS
By Soumitra Mondal, Gaea News Network
Wednesday, October 27, 2010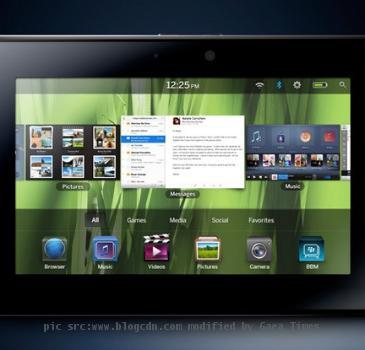 more images
Waterloo, Ontario based BlackBerry Smartphone manufacturer RIM has just given us a good news by announcing the availability of the Adobe AIR SDK for their Tablet OS commonly known as BlackBerry PlayBook Simulator. BlackBerry PlayBook Simulator Beta makes us a little gloom as it does not have much to offer us, as there is no web browser or applications are available. However, the only good news is for the wallpaper freaks as they can download grab the wallpapers according to their wish.
ARTICLE CONTINUED BELOW
Adobe AIR Applications is created by developers for BlackBerry PlayBook as New SDK from RIM is available. Adobe AIR is getting new dimension for the SDK as it integrates new extensions that are highly suitable for the BlackBerry Tablet OS. The feedback from the developers indicates easy development and high quality performance.
BlackBerry Tablet OS in The BlackBerry PlayBook supports Adobe AIR 2.5 and Adobe Flash Player of version 10.1. The BlackBerry PlayBook's processing power quite exceptional as it includes a 1 GHz dual-core processor, true symmetric ultiprocessing and multi-threaded facility. It gives developers the capacity to deliver highly rich data and multi-applications facilities and wonderful touch screen experiences.
In the browser as well as within AIR applications, playback of video accelerated by hardware content and graphics-intensive content enables us to give a smooth, highly accurate viewing experience on the BlackBerry PlayBook. It can even be up to 1080p HD content. AIR apps enable web view and also display HTML and Flash content which in turn accomplishes the purpose of PlayBook's WebKit browser. UI components are built artificially for providing us touch screen experience on the tablet, which includes multi-touch and gestures.