Roxxxy : Robot Girlfriend with AI Personality
By soumitra, Gaea News Network
Tuesday, January 12, 2010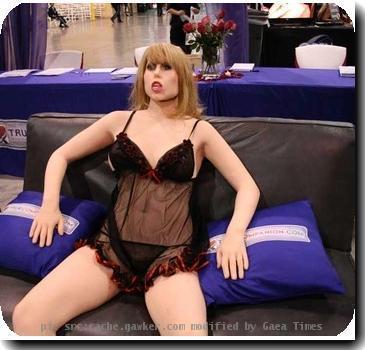 more images
Las Vegas (GaeaTimes.com) - If you thought robots with AI are only seen in Sci Fi movies carrying weapons killing people, it's time to awake up in this twenty first century! Robots can now kiss, chat with you like your girlfriend talking about footballs and can also do some unprintable things if your evil mind tries to get some digital fun from it.
ARTICLE CONTINUED BELOW
Roxxxy is the first sex robot with Artificial Intelligence capabilities unveiled at the AVN Adult Entertainment Expo. The world's first life size robotic girlfriend is engineered by Douglas Hines of TrueCompanion Company.
It is 5 ft 7 inch tall and has real flesh like synthetic skin with a total body-weight of 60 pounds. It also has an articulated skeleton positioned like a human being. Buyer can customize things like hair color, eye color and, ahem, breast size. The AI engine is programmed to learn the owner's likes and dislikes. There is also an option of buying Roxxxy with five different personalities - outgoing Wild Wendy, reserved and shy Frigid Farrah. Mature Martha is a a young naive personality and S & M Susan is very adventurous.
Roxxxy has touch sensors in the sensitive portions of its body. (They mean the places where one should be touching it!) The robot will respond depending on where you touch it or what you are talking with it. There is a laptop connected to cables coming out of its back. The laptop is equipped to receive updates over the internet to improve its knowledge as well as its vocabulary.
Roxxxy is currently available in United States and Europe with a price about $7,000 to $9,000 and an added subscription fee. The price includes the price of the laptop used with it. Do you want to buy it? Please share your thoughts in the comments section.
Filed under:
Company
,
Featured Article
,
Fungadget
,
Future
,
Gadget
,
Robot
,
Robots
,
crazy gadgets
Tags:
Robot
,
Robots
,
Roxxxy
,
Top Robots