Samsung Makes First DDR 4 Ram Module
By Shaon, Gaea News Network
Wednesday, January 5, 2011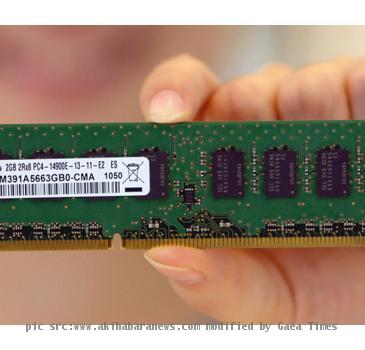 more images
Samsung announced this morning that they the development and has been able to manufacture the world's first DDR4 module. The new category of RAM are set to reach mass production and availability as soon as early 2012. While replacing DDR3 memory Modules, the DDR4 are supposed, to be 40% more efficient in energy management. It is also set to achieve a 2.1Gbps data rate transfer.
ARTICLE CONTINUED BELOW
Samsung Electronics Co., Ltd, a global leader in advanced semiconductor technology solutions, announced today that it completed development of the industry's first DDR4 DRAM module last month, using 30 nanometer (nm) class* process technology. "Samsung has been actively supporting the IT industry with our green memory initiative by coming up with eco-friendly, innovative memory products providing higher performance and power efficiency every year," said Dong Soo Jun, president, memory division, Samsung Electronics. "The new DDR4 DRAM will build even greater confidence in our cutting-edge green memory, particularly when we introduce four-gigabit (Gb) DDR4-based products using next generation process technology for mainstream application."

The new DDR4 DRAM module can achieve data transfer rates of 2.133 gigabits per second (Gbps) at 1.2V, compared to 1.35V and 1.5V DDR3 DRAM at an equivalent 30nm-class* process technology, with speeds of up to 1.6Gbps. When applied to a notebook, it reduces power consumption by 40 percent compared to a 1.5V DDR3 module.

The module makes use of Pseudo Open Drain (POD), a new technology that has been adapted to high-performance graphic DRAM to allow DDR4 DRAM to consume just half the electric current of DDR3 when reading and writing data.

By employing new circuit architecture, Samsung's DDR4 will be able to run from 1.6 up to 3.2Gbps, compared to today's typical speeds of 1.6Gbps for DDR3 and 800Mbps for DDR2.