SanDisk Launches Extreme Pro 128GB UDMa for $1,500
By Turjo, Gaea News Network
Friday, January 7, 2011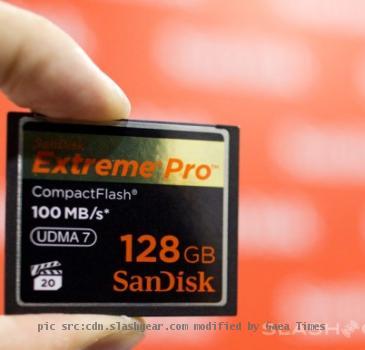 more images
Sandisk has released the fastest Compact Flash card which they are calling Extreme Pro 128GB UDMA 7. Intended for seriously pro photographers, the 128GB memory card is capable of up to 100 MB/s write speeds and up to 97 MB/s read speeds. And the best part is, the card comes only for a price of $1.5k.
ARTICLE CONTINUED BELOW
But the funny thing is that, Sandisk has declared that there's no camera out there currently capable of UDMA 7 speeds. Retail product marketing director Susan Park assures us that's not necessarily an issue, though; the card is backward compatible with UDMA 6 interface cameras and should still sustain the highest possible transfer rates. It'll also work with existing PCI Express Card readers.
SanDisk expects the new Extreme Pro 128GB UDMA-7 CF Card to retail for $1,499.99; it's available to pre-order now.
We are soon going to post a review once we get a hold of a production sample. So keep an eye on this site for updates.