Scorpio 750 GB HDD Launched
By Arnab Ghosh, Gaea News Network
Friday, January 14, 2011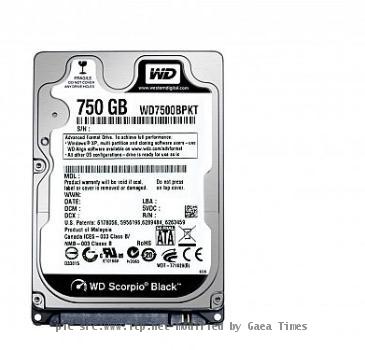 more images
SAN FRANCISCO (GaeaTimes.com)- Western Digital, which is known as one of the leading storage device manufacturers, has unleashed its new Scorpio Black 750GB hard disk drive. The internal hard drive has a 2.5 inch form factor and it is targeted at notebook makers and users. The SATA drive has a 7200 rpm spindle speed and it is equipped with 16 MB of cache for enhanced performance. WD has said that there are a number of data-protection features in this drive and it makes use of 'Advanced Format' technology. The company has said that from the tests performed on this drive, it is clear that it offers a nice blend of speed and performance.
ARTICLE CONTINUED BELOW
The Western Digital Scorpio 720 GB hard drive is ideal for the demanding users. In particular, gamers and multimedia professionals who need to use resource hungry applications will benefit from this model. As a matter of fact, top PC makers like Dell use WD hard disks in their desktop and laptops and this model is likely to be lapped up by them. The average price for the hard disk is $149. The company offers a 5-year warranty on this model. It has already been shipped to selected U.S. retailers, the company spokespersons have admitted.
This new SATA HDD in the Scorpio series is also ideal for the professionals who are looking forward to upgrade their existing hard disk drive in laptop. With a storage capacity of 750 GB oodles of media and apps will not pose a problem. The spindle speed will ensure that the other hardware in laptop will not face a bottleneck. The price of the drive is also reasonable, considering its specs and features.