September 8 Launch For Samsung Fascinate
By Arnab Ghosh, Gaea News Network
Wednesday, September 8, 2010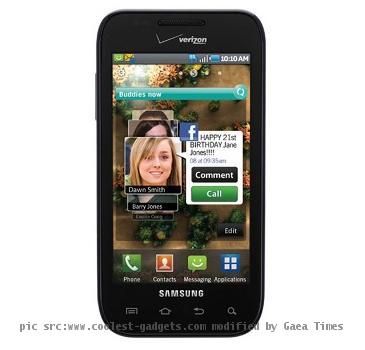 more images
NEW YORK (GaeaTimes.com)- The various versions of the much touted Samsung Galaxy is coming to the different carriers in the USA and the models are hogging the limelight. The latest variant of Galaxy to land in the US mobile market is the Samsung Fascinate and Verizon Wireless is going to sell it to the users as it has been reported. The customers can buy it online from September 8 and the stores of Verizon will start selling the model from the next day. The handset will be available for under $200 and it comes post a mail-in rebate worth $100.
ARTICLE CONTINUED BELOW
The Samsung Fascinate which is going to be sold online from September 8th however has some minor quirks. It does ship with the famous Android OS but Samsung has not used the latest version, the Android 2.2 Froyo. Display has always been a forte with the Samsung Smart phones and the Fascinate is no exception. Its super bright AMOLED screen makes watching movies or using in direct sunlight a breeze for the users. Verizon is likely to offer Froyo update for the users later.
The Samsung Fascinate that is arriving on September 8 runs on a really powerful 1GHz Hummingbird Application Processor which means multitasking will not be a problem for the users. To enable faster typing there is a virtual QWERTY keyboard that supports SWYPE technology. The charging cradle is also pretty useful for the users who want entertainment on the move. The powerful 1500 mAH battery ensures that the demanding users do not have to charge the phone every alternate day.