Sharp Aquos Quattron 3D Hits the Market Soon
By Avik, Gaea News Network
Monday, September 6, 2010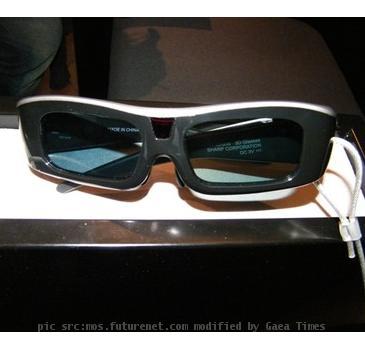 The
Sharp Aquaos Quattron 3D
is the company's take on the budding 3D TV Market.
Sharp is all set to unleash Aquaos Quattron 3D at this years IFA. The UK release is scheduled next month. This is gonna be an expensive buy for the costumers at an whooping 3,500. But then the 60 inches of 3D experience should also be taken into count.
ARTICLE CONTINUED BELOW
Sharp flaunts its four-primary-color technology over the existing RGB model. The addition of Yellow to the traditional Red, Green and Blue combination will highly improvise the viewing experience with brighter imagery and enhanced definition.
Sharp also brings in a bleeding edge signaling technology — FRED that is said to have cut down the image lag paving passage for 3D television to be shown in high quality with low cross talk.
Reportedly, these systems will all facilitate edge-lit LED backlight feature. The resolution is set at full high definition 19201080.
These TV's will also feature a pair of glasses that enable you to watch a 3D flick in the age old 2D experience. Another pair of these may cost you around 100.
Features at a Glance:
Four-primary-color technology based on UV2A
High-quality 3D imagery with extremely low crosstalk — FRED technology
Compatible with HDMI cable10
2D to 3D conversion
3D glasses equipped with 3D to 2D conversion function
AQUOS NET+ powered by NET-TV
Sleek designer seamless TV — edge-lit LED backlight system
So, are you ready to enter the next level of vision?