Sharp "babies" Blink, Tango, Alice and Cyborg ready to enter India
By Soumitra Mondal, Gaea News Network
Friday, November 12, 2010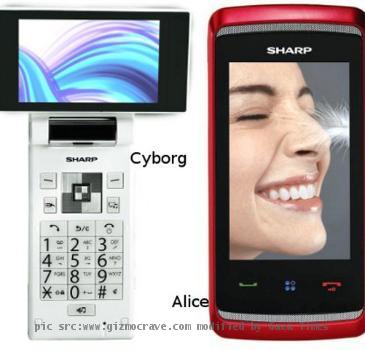 more images
Taking the advantage of 3G rush in India many foreign companies are aiming at Indian Mobile market. The newest addition in the Indian smart phone market is "Sharp". The electronics and appliances maker company has entered Indian mobile phone market with four brand new sets.
ARTICLE CONTINUED BELOW
The sets are named as Blink, Tango, Alice and Cyborg. According to MD Sunil K Sinha of Sharp Business Systems India, the handsets are launched keeping in mind Company's record of innovative products. According to the Sharp officials the phones are targeted at "trendy yet price conscious" urban and semi urban youth ranging in age group of 16 to 30. The company will give away various promotional offers in coming 6 months to build up the brand.
Blink comes off with dual SIM capability. It has clamshell form and has LED illumination effects in 7 different shades. It also has quick access to social networking sites. It will come into pocket with spending Rs 6,499.
Tango has an accelerometer and has a touch panel for intuitive graphic user interface operation. It has a touch screen. The handset comes with a 5 megapixel camera. Its available at Rs 17,999.
Alice has a full touchscreen display bearing and will sort twin stereo speakers. Various social sites are available on this phone. The price tag counts Rs 8,499.
Cyborg is a cycloid handset having a screen which can rotate 180 degrees. It has 3.2 megapixel camera and high resolution display. Its available at Rs. 16,999. All phones have 3G service.