Solar Wireless Keyboard K750 From Logitech
By Avik, Gaea News Network
Tuesday, November 2, 2010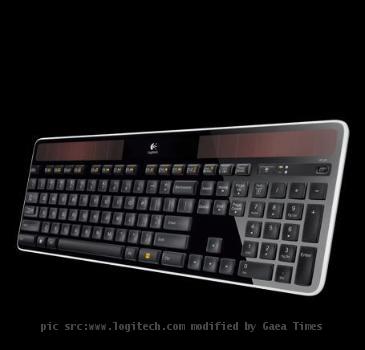 more images
Logitech is well known to all of us. Over the years they have produced some of the excellent hardwares and gadget that not only has improvised computing environment to a great extent but also has set forth new notions in terms of style and elegance.
ARTICLE CONTINUED BELOW
The company is out with its brand new Wireless Solar Keyboard which happens to be quite a good deal. Well, not to mention, it is indeed wireless and comes around with a solar panel to captivate energy. What's more the infrastructure is great and no need to think about the battery life, its equally satisfactory. Reportedly, it has the ability to serve you for a span of around 3 months in a dark room and to add to all this flaunts the aura to glean power from indoor lighting. Coming to the facts and figures the keyboard itself happens to be just 1/3-inch thick and includes Logitech's unifying receiver. There is a solar app, which is efficient enough to keep tabs on battery juice, but moving with the time it's targeted towards Windows 7 so the rest may face compatibility issues.
Right in time for the holidays, and inspiring you to take a break from your chair, Logitech's Wireless Solar Keyboard K750 ships November 15th because that's when the app will be available for download. For the wise there is the option to preorder it for $79.99.