Sony Goes 3D with VPL-VW90ES Front Projector
By Avik, Gaea News Network
Monday, September 27, 2010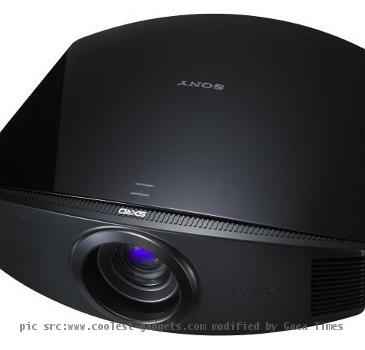 more images
With the rising popularity of 3D technology Sony has decided to unleash its maiden 3D front projector this month.
ARTICLE CONTINUED BELOW
In the recent times movies like The Dark Knight and Avatar had claimed immense fame in the HD movie releases and not to mention both the titles have bagged in a lot of money.
Sony's new projector is not only supposed to work along with its own home products but is also designed to entertain 3rd party appliances equally. It will provide the viewers with mesmerizing picture quality and is powered by their very own "Elevated Standard" (ES) monitor, which points toward a high build quality and outstanding video experience.
The projector flaunts Silicon X-tal Reflective Display (SXRD) which makes it full HD giving it 1920 x 1080 resolution and making it capable of delivering film-like performance with Sony's 24p True Cinema. This new gadget wll bring you get frame sequential 3D technology alongside active-shutter glasses which will co-operate with Sony's proprietary 240Hz high frame rate technology, resulting in smooth, full high-definition 3D images.
The VPL-VW90ES has been optimized to reduce image distortion utilizing minimal cross talk. With an Ultra High Performance (UHP) lamp integrated in the system, it is also capable of driving a brightness level of 1,000 ANSI lumens.
This projector guaranteed to deliver you Stereoscopic 3D entertainments set for release by this month at an amazing price of $10,000.