Sony NWZ-E453 Walkman Facts and Features
By Avik, Gaea News Network
Friday, October 1, 2010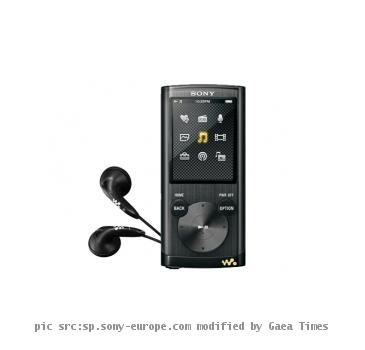 more images
The Sony NWZ-E453 comes in the same line as NWZ-E454 (8GB) and the NWZ-E455 (16GB). These are the so-called E Series Wlkmans from the house of Sony. The company is much well-famed and needs no comments. This time altogether they have aimed at the younger consumers and has provided with a choice among vivid selection of colors like - black, red, pink, blue or green. The gadget is packed with 4GB of storage space and can deliver power for about 50 long hours if you listen to music and will cut-down to 10 hours if you go on with videos.

ARTICLE CONTINUED BELOW
Facts and Features:

Cool colorful design - New E Series Walkman design concept gives you a choice of unique, vibrant and colorful finishes
Fun music features - Organise music into moods with SensMe, sing along with Lyric Sync and Karaoke Mode plus FM radio for more listening choice
Sound quality - Enjoy a smoother, better listening experience with Clear Audio Technologies, Dynamic Normaliser and Virtual Phones Technology
Easy to use interface - Scroll through albums, search video scenes and customize wallpaper with the new graphic user interface and 2.0″ QVGA LCD display
Multi-format support - Play WMV(DRM), AVC(H.264) and MPEG-4, auto-convert video files (H.264/MPEG-4/DivX/AVCHD) with Windows 7, and playback MP3, AAC, WMA (DRM) L-PCM
Extra long battery life - Listen for even longer with 50 hours music playback from a single charge - or a class-leading 10 hours of video
Clear Audio Technologies - Enjoy a purer sound true to the original source thanks to Clear Stereo, Clear Bass and DSEE technologies
Dynamic Normaliser - By balancing the volume level between songs, you'll enjoy an smoother listening experience
FM radio - Get instant listening access to your favourite radio shows and stations
2.0″ QVGA LCD screen - Display videos, photos and album art horizontally or vertically, in razor sharp and ultra bright quality, with our fast response LCD
SensMe, Lyric Sync and Karaoke Mode - Organise your music into different moods, playback song lyrics on screen in time with the music, and sing along in Karaoke Mode
User interface - Re-designed playback screen gives you more room for Album art plus album scroll feature, search for video scenes and set wallpaper
WM-PORT - Easily connect your Walkman to a range of optional accessories
4GB memory - 4GB storage holds around 880 (at 128kbps) music tracks or approx 14 hours video (at 384kbps)
Language learning - Easily take control of playback speeds, repeat and rewind functions - ideal for audio learning content like languages
Voice recording - Built-in recording function allows you to capture audio in a meeting, in class or on the go
This cool and handy gadget comes in with a price-tag of around 69.00. So, what do you think? Are you ready to go?