Sony RM-KZ1 TV Remote Control For Kids
By Avik, Gaea News Network
Tuesday, November 9, 2010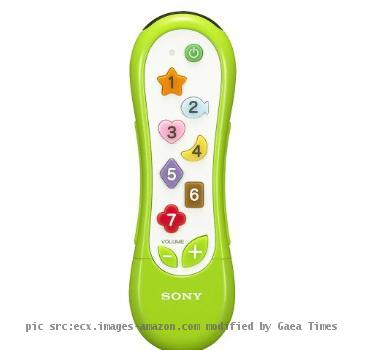 more images
Sony is here with a caring touch for the kids. Indeed this unique remote control is sure to be an instant hit with the children.
ARTICLE CONTINUED BELOW
Well, let me be straight forward all together, I'm not quite sure of the fact if I would like my kids to be playing around with a TV remote, it their age to be outside getting along with people, doing exercises, but what Sony has to say sounds different and their new RM-KZ1 child friendly remote sure gives young children a reason to watch more TV.
Briefing on the tool itself, the controller happens to be "kid" proof, and in offering is a splash-proof design, while the buttons are placed tactfully and thankfully all those unneeded input and output buttons that can easily be spotted with universal remotes have been abandoned. Looks like they have kept usability issues at numero uno while dealing with the gadget, infact, the remote also has programmable buttons for each access to your child's favorite shows. If you take a look you can find that the programmable buttons are those larger ones that can be opted at the top of the remote, making it altogether simple for your kids to find Nick Jr., Disney and other kid friendly programming you've chosen for them.
What's more to add to this all, it facilitates Parents to approve of the "volume limiting" feature which only allows for three up and down volume levels every 30 seconds.
Now, the cost is just a handful, $18, so what do you think ??