Tegatech Tega V2 Quick Review
By Soumitra Mondal, Gaea News Network
Thursday, October 28, 2010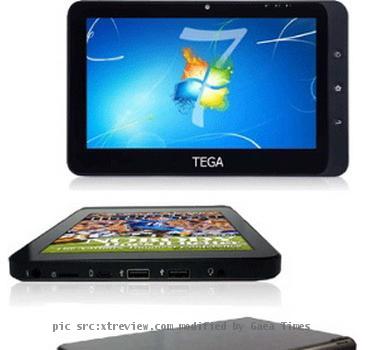 more images
Australia-based TegaTech has launched a Windows 7 Tablet named Tega V2. Although we did not see too many slates operating in Windows 7 from some of the branded ones like Lenovo, HP, Compaq, etc. but now it's time to give a smile as Tegatech is getting a share in the touchscreen world by launching Tega v2.
ARTICLE CONTINUED BELOW
The tablet almost has the features of a netbook with the keyboard missing. The tablet has a 10.1-inch display with a processor of Intel Atom N455, 2GB of RAM with a 32GB SSD storage, running in Windows 7 Home Premium. Tega v2 is only 0.5-inches thick and weighs 1.9-pound setting its identity by being one of the slimmest and lightest among the world of slates.
The Tega v2's black and shinny screen is quite similar to the other tablets in the market, but your opinion will change completely after touching it with your hands. The back is made up of aluminum which reminds us of the feeling of the iPad or any of the other plastic tablets. The features that makes Tega a better choice for the customers rather than other slates running in Win 7 is the slimy feature.
Tega v2 is having a display 9.5 x 7.5 x .5-inch, compared to the iPad its only 0.02-inches thicker. But it is thinner by 0.2-inches than the 2goPad as well as the Nav9. Having a 1024×600-resolution, the 1.9-pound slate is not very easy to hold, but the display of 10.1-inch is still one of the best.
Getting the benefit of the thinner slate you have to sacrifice an Ethernet port, as there is no room for it. You can get to use two USB sockets, a slot for microSD, a VGA of mini size. Added with it is a combo headphone or a mic jack. A SIM card slot is available at the top giving the 3G facility which you can get at $85. A 1.3 megapixel camera is available at the top which will allows us to make a clear Skype video call but one is thing to be noted that it does not have webcam software installed previously. The price of this gadget is set at $799.