The Washington Post App Now Going Free For iPads
By Shaon, Gaea News Network
Tuesday, November 9, 2010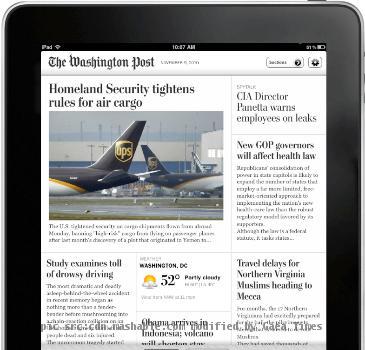 more images
The Washington Post came to the iPad's App store and its readers would be glad to know that the app is going to cost a whopping cost of ziltch dollars, Yes the app is being distributed free as of now. The collection will feature all the usual Washington post stuff like the news, opinion and feature stories, as well as photo galleries and videos, found on the publication's website.
ARTICLE CONTINUED BELOW
The app is readable at both vertical and horizontal mode. The iPad's multi-touch functionality will allow the readers to switch between pages with a gesture akin to the one they might have been using while turning pages for a regular print editions. But yes in terms of pure readability The iPad app The Guardian's edition wins hands down. But despite of the low res images that are on offer it well works. User's would be able to download articles and share them on all the mainstream social media sites like Facebook and Twitter. The Live Topics section actually links to related stories from other news sources. Conversation streams from select sources on Twitter and Facebook are also featured.
The only bad thing about this app is that it will provide full accesses till February 15,2011 after which the app will cost a monthly subscription of $3.99(0.99 if you already are a print subscriber).