Thomas Grip of Frictional Games Speaks on Amnesia: The Dark Descent With GaeaTimes.com
By Shaon, Gaea News Network
Wednesday, September 15, 2010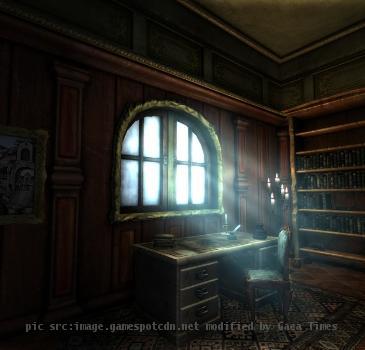 more images
In what could be the most critically acclaimed hit from an independent studio in recent memory, Amnesia:The Dark Descent is something special. Since its release, the top game critics and gamers can't stop raving about the title. This game deserves mention as one of the very few legitimate efforts in the Horror Genre. When a game averages 85 out of 100 in MetaCritic it sure has done something right! The ever growing fan base of the game will provide firm testament to that. One look at the steam communities and you will find a forum of fans discussing among themselves on how to increase the sales of the game.
ARTICLE CONTINUED BELOW
In an interview with GaeaTimes.com Thomas Grip of Frictional games opened up regarding the various creative decisions that went in the game in order to scare the daylights out of the players. We even discussed the possibility of a console port in the near future. To find out what they said read on
First of all congratulations for turning a decidedly stale genre on its head. As we have felt in the limited play through, Amnesia:The Dark Descent has the atmosphere one can cut with a knife.

So First off:

1. How is Amnesia: The Dark Descent different from your previous effort the episodic Penumbra?

TG: It is a more streamlined experience, with better interaction and better flow in the overall gameplay. There is also a sanity mechanic and story and setting are completely different.

2. You mentioned in an interview earlier with linuxgamingnews.com that you "did" try to feature combat in the game, but later decided to scrap it in favor of a more balanced gameplay. So my question is: How did you optimize the difficulty of the game to be just perfect?

TG: In a away, when "correctly" played, Amnesia changes difficulty depending on the player. There are some very simply tactics that less skilled players can used and others that require some more coordination and effort. Our idea was that the players would adapt themselves and keep it at a good balance. It is all based on our intuition though and we did not use very much testing to come up with it. The same goes for puzzles. What we do is that we make a puzzle that we think makes sense and then if players tries other solutions during testing, we add those as well.

3.How did you capture the look and feel of the Castle Brennenburg? What were your influences?

TG: We visited some castles during pre-production and also did a lot of searching on the Internet. The general feel is inspired by how scientist used to work in the 18th and 17th century.

4. Any works of fiction/ movies, you were inspired by for the story besides works of H.P. Lovecraft?

TG: There is tons of book that have been used as inspiration. "Soul made Flesh" by Carl Zimmer inspired much of the old scientist atmosphere and older horror movies like "Haunting" has inspired the minimalistic build up.

5. Was the protagonist supposed to be on the verge of insanity from the outset? Or did that aspect of his character went into the development process later on?

TG: It is a bit up for the player to decide if they are mad or not when the game start. From that point the player should become the protagonist, and Daniel is more like some lost memories of oneself. The insanity can then be viewed as the old self surfacing. The insanity in general has been a part of the game since quite early. It is a very vital part of the story.

6. The first thing I noticed the game was its gorgeous lightning. You guys made black really "Pitch Black" . So how did you zero in on the perfect "Darkness" in the levels?

TG: Glad you think we did! The darkness was a real pain to get right as it ties in to so many mechanics (sanity, navigation, finding item, hiding, etc). It was basically just a lot of trial and error and we are very happy it turned out okay in the end!

7. Is there anything you would have loved to have done in this game but didn't?

TG: There is tons of scrapped ideas that we just did not have time or resources to do. Would have been fun to give some of them more time. But you also need to stop sometime and release the game. Among things scrapped where an area where you crawled in narrow caves and some other creatures.

8. Any plans for a future episodes? Do you plan to release the title for consoles?

TG:Amnesia: The Dark Descent is a self contained game so the story of Daniel ends there. However, it hints at a wider world and there are some other things that would be fun to explore. Not sure if we will ever make a sequel though. A port to consoles is something we have discussed and might look into.

9. Are you satisfied with the commercial reception the game is getting?

TG: Very satisfied. The reception has been beyond what we expected. Even better is that most people played it like we intended and role played instead of having focus on "winning".

10. What do we expect from Frictional games within the next couple of years?

TG: More games and and a deeper exploration of the medium. We have tons of ideas we want to try out and we hope to take the video game medium in new directions and explore new places.
We will come out with a full review very soon. That is if we can muster enough courage to play through it, just kidding! In the mean time we urge all our readers to try the demo and see for themselves.
Amnesia: The Dark Descent has released on 2010-09-08 for the PC. The game is also available for Mac and Linux. Each copy of the game retails for $20 on Steam. The game averages 85 out of 100 on metacritic.com.