Tomorrow's Tablets Surface In CES
By Arnab Ghosh, Gaea News Network
Saturday, January 8, 2011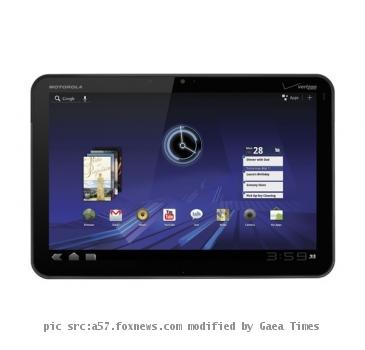 more images
LAS VEGAS (GaeaTimes.com)- The CES 2011 is driving the technology and gadget lovers crazy with a plethora of upcoming products and tomorrow's gadgets surfacing each day. As the tech veterans said the event will witness the unveiling of a huge number of Internet tablets and their predictions have come true. Every major consumer electronics makers have come up with their Touch screen tablets at the CES 2011and some have stood out among the lot. These gadgets of tomorrow are getting the adulation from the geeks who have attended the mega event and they are going gaga over the RIM PlayBook and Motorola Xoom tablet. In fact the Xoom created a lot of hype before the CES when Motorola released a teaser footage online. After the unveiling it can safely be said that the product has lived up to the hype. It is the only tablet that is being launched with Android Honeycomb while other candidates have only promised support for the new OS.
ARTICLE CONTINUED BELOW
The other tablet of tomorrow that has managed to get lots of attention is the RIM Playbook. It has turned out to be a solid performer at the preview. Toshiba has said that unlike Motorola or Samsung it will not launch its tablet in collaboration with any carrier which is an interesting move. Now the experts who predicted there will be n worthy rival for iPad are silent. The Xoom and PlayBook have earned rave reviews and they have the potential to give the iPad and Galaxy Tab a run for their money.
These tablets of tomorrow will get released this year. The pricing of the products are yet to be revealed.