Top 10 Digital Watches of 2010
By debashis, Gaea News Network
Friday, February 5, 2010
Since their advent decades ago, digital watches have come a long way. From the 1980s onward, digital watch technology has improved drastically. Apart from the primary objective of timekeeping, digital watches now act as multi-functional devices. While a section of watch-lovers prefers to stick with the standard watches, trendy digital watches have become the favorites among the geek crowd. There are scores of stylish, feature-packed digital watches, and choosing the top model is never an easy job. After an extensive search, we rounded up the top 10 digital watches.

ARTICLE CONTINUED BELOW
1.Fossil Abacus AU5005 Wrist PDA with Palm OS-Black
It is an amazing watch with a Palm PDA built into its small body. The wrist PDA includes a variety of applications, including a calendar, address book, memo pad, and calculator.
Being equipped with a touch-screen, it is easier to navigate. To write a memo or a message, you just have to use a screen keyboard or do it with Jot. The Fossil watch is provided with the password protection - it will not switch to the PDA mode until its owner types in the password. Experience wearing a PDA on your wrist.
2.Casio Men's Technoware Remote Control Watch
It is a real boon for those TV addicts. A smartly developed device that will successfully replace an infrared remote control. The timepiece features a power on/off button so you can turn on and off your TV. You can also easily change the channels and volume. The digital watch can memorize up to 16 sets of infrared data. Besides that the Casio watch is provided with 8 digit calculator, 1/100 second stopwatch, daily alarm, hourly time signal, and auto calendar.
3.Garmin Forerunner 205 Wrist-Mounted GPS Fitness Computer
It is not simply a timekeeping device but a real wrist-mounted computer for the fitness freaks and sportsmen. It becomes owner's running partner and personal trainer that will track his/her every move with a super-sensitive GPS. It will continuously monitor its owner's speed, distance, pace and even calories burned. Garmin's Virtual Partner function allows its owner to set up virtual running or biking companions to compete against him/her.
With this Garmin it is also possible to transfer data to your PC if you need a detailed analysis of your workout.
4. Origo Multi Sensor Watch with Barometer, Altimeter and Compass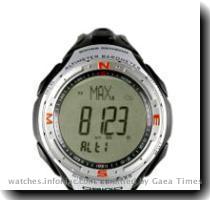 It's an ideal piece for pilots and aviation fans. Those who need quick reference-data on-the-fly will appreciate the watch's functionality, simplicity in use and appealing design. The multi-sensor watch provides accurate information featured by an easy-to-read display. It also sports a graphic weather forecasting indicator, temperature function and barometric trend graph display.
5.Citizen Men's Promaster Cyber Aqualand Nx Watch MG1010-08E
Are you one of those, who loves diving?  Here's a watch highly appreciated by professional divers. It was developed as a powerful dive computer for air and Nitrox, equipped with a log memory for up to 100 dives and full compression data. It also provides the following basic functions: 1/100th second chronograph, countdown timer from 99 minutes to 1 minute, automatic calendar, alarm, destination timer, and world time for 30 cities. The Citizen watch boasts 660-feet (200-meter) water-resistance.

6.Oregon Scientific meteo Weather Forecast Watch
A sleek, stylish and fashionable wrist watch able to track the weather by measuring barometric pressure trends. It has four easy-to-read weather icons: sunny, partly cloudy, cloudy and rainy. It is a digital clock with calendar, alarm functions and stopwatch function up to 60 hours. It is also water resistant up to 30 metres (98 feet).
7.Tokyo Flash "Twelve 5-9 B Version" Watch TWELVE-5-9-B
The wristwatch is definitely flashy and sure to turn heads wherever its owner goes. The watch offers an unconventional look. The owner of this Tokyo Flash could easily trick friends telling them that it indicates the blood pressure and heart rate, while in fact it only displays the time in a really original way with help of blue LEDs.
8.Heko watch from TokyoFlash
The Heko watch from TokyoFlash is another good one that features highly-encrypted time for all you super-geeks out there. This watch may also be great for the she-geeks as its form and style is made for both men and women.
9. Danish digital watch in light pink
For all those trendsetters out there, specially the geeky ladies, this Danish digital watch in light pink will be nice complement to your attire.
10.Giordano Men's LED Digital Steel Watch
Are you one of those hunks digging for something stylish and geeky? This watch from Giordano could be your best bet. With bold, masculine design and sporting red LEDs it has a poised ambience that is sure to have you looking twice.