Top 10 Gadget Gifts for Christmas
By soumitra, Gaea News Network
Monday, December 21, 2009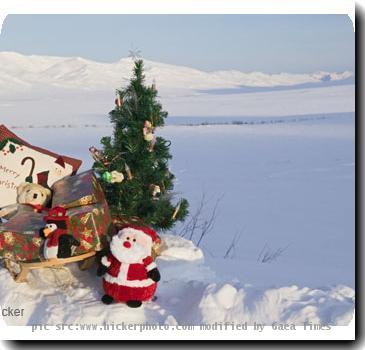 more images
Christmas is here and if you haven't yet bought a gift for your beloved gadget geek, we are here to help you get out of trouble. Here is the collection of the best gadgets of 2009 for you to choose among. Have a look at the list and decide which one you should go for.
ARTICLE CONTINUED BELOW
1. Motorola Droid
Motorola Droid was perhaps the most hyped smartphone of 2009. Running on promising Android 2.0 platform, this highly capable device can be the best competitor that iPhone has ever faced. If you really wanted to upgrade your mobile phone with a stellar device if you haven't yet, there is no better option than this one.
2. Amazon Kindle
With the latest data available, Kindle has been the most purchased gift item in Amazon. The updated device has really proved to be a stable one gaining popularity throughout this year. The improved readability of the device and publishers starting to create content for the mobile device is making the device more acceptable than any other ebook reader available right now.
3. Asus Eee PC 1005 HA Seashell
Netbooks are now very popular for their lightweight and low price. You can almost do everything other than gaming or high level multitasking. And if you are thinking to buy a good netbook, Asus Eee PC 1005 HA Seashell is our choice.
4. Flip Ultra HD Camcorder
It is really wondering how small the gadgets have become today but it is also worth noting that the cramping of the devices does not cost the quality. Flip Ultra HD Camcorder is a nice example of this. This pocketable gadget can record as long as 2 hours of continuous HD Video and after that just plug the device through USB and copy the video file to your computer. Technology is at its best when it is simplest (on the outside!).
5. Nintendo Wii
This is the best gadget for your kid who loves gaming than anything other on this earth! This sleek Nintendo Wii has a sensor bar, an AV Cable, a Stand, a Remote and a Nunchuk controller for the most exciting gaming experience. Whether you are an expert gamer or just a beginner, you'll definitely like the Nintendo Wii. There are several games available for the device and you'll hardly notice how several hours have passed when you were playing with it.
6. Samsung BD-P4600 Blu-ray
Blu-Ray is the latest technology when it comes to High Definition Pictures and if you ever thought to acquire one, there is no better time than Christmas. This Samsung Blu-Ray player has best picture quality and also does not cost a huge amount to create a hole in your pocket.
7. Canon Powershot SX200IS
Digital Camera can be the best gift to those who don't already have one and this is our choice for the best digital camera of its price. This is a no nonsense 12 MP Digital Camera with 12X Optical Zoom and 3.0 inch LCD to view those photos. It also has the capability to shoot HD quality videos at 1280 X 720 pixels. There is an HDMI Output port to view those videos and images in your HDTV.
8. Playstation 3
Sony Playstation is a single device to meet all your gaming, DVD and Blu-ray needs. With the 120 GB Playstation 3 system, you'll get free Playstation 3 network membership, in built WiF and 120GB HDD to store games, music, videos and photos. There can be no better gift than a gadget that can do everything and do them best.
9. Apple iPod Touch 32GB
Any gift list is incomplete without an Apple. This is one of the oldest gadget gift idea but is still most popular. No one can dislike an Apple iPod Touch that can store 32 GB of their favorite music, videos, games and yet so elegant that you'll be proud to take this one out of your pocket.
10 Assassins Creed II
The world of Assassins has come yet again. Revenge and conspiracy is waiting for you to dealt with which will decide fate of your life. As the Assassin face new challenges and dangers. Yes, gaming is the most absorbing experience and entertaining experience and is also very good as a gift.
Filed under:
Apple
,
Camera
,
Canon
,
Company
,
Featured Article
,
Gadget
,
Mobile Phone
,
Motorola
,
Music
,
Sony
,
christmas
,
ebook reader
,
iPod
,
mp3 player
Tags:
best deals for christmas
,
christmas
,
Christmas Gadgets
,
Christmas gifts
,
top 10 christmas gadgets