Top 10 Gadgets for Black Friday 2010
By Mayuri, Gaea News Network
Tuesday, November 16, 2010
On this year's Black Friday people will be extensively buying gadgets and gizmos. A recent survey has shown that Black Friday 2010 season will be completely taken over by the gadget fans. It won't be surprising to see all the folks crazily heading toward the gadget shops to buy as many as gadgets to fill their bucket of Christmas shopping.
Keeping in mind all your quests and craze of gadgets this year, we list you the top most desirable gadgets of Black Friday 2010 that you will be proud to buy.
Apple iPad

ARTICLE CONTINUED BELOW

This revolutionary Aplle's iPad has received a lot of positive comments. It is the most attractive device for you in terms of form factor, performance and price. With its Multi-Touch screen and advanced features, it can easily be a good alternative to laptops and will provide you the basic computing needs such as browsing the web and digital media consumption.
Price: $499 (approx)
2) Microsoft Xbox 360 Kinect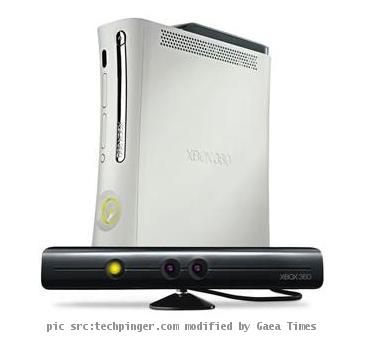 The game lovers will be really happy if they find a shiny new Xbox 360 Kinect under the tree on Christmas eve. This brand new Microsoft Xbox Kinect is sure to be the biggest family-fun hit of the holiday season. It uses four microphones and three video lenses to locate your body. The setup is fairly simple. Once it scans your body to identify your height and facial features, you're off and running or jumping. Burn your calories ans well as enjoy a thrilling gaming experience with this new device.
Price: $150 (approx.)
3) Plastic Logic Que E-Reader
This ultra-thin E-Reader with 11.6 inch screen will surely give you the feel of an iPod or iPod Touch. The most notable aspect of Plastic Logic Que E-Reader is that the company has partnered with over 300 newspapers and magazines so that you can have specially formatted content to read in this device.
Price: $649 (approx)
4) Toshiba Cell TVs

This new HDTV comes packed with every feature that you ever could have dreamed of. It incorporates the same type of processor used in the PlayStation 3 and offers native 3D capability. Besides having outstanding picture quality, it is capable of converting 2D to 3D.
5) Sony Walkman NWZ-W250
On this Christmas don't miss out this new water resistant and wireless player from Sony. If you are looking for a hands-free device with unexceptional sound quality then this latest innovation from the house of Sony is a must buy for you. Packed with 2 GB memory space and and quickcharge capability this new walkman boats 11 hour battery life. To your delight it is available in four most ravishing colors.
Price: $60
6) Alienware M11x Gaming Laptop
If you want to experience solid gaming then this Alienware M11x gaming laptop is just perfect for you. Don't think it will cost you an arm or leg to buy this gaming laptop and it comes with a cool design with a decent GPU and a processor. If you can compromise the size factor then this unique laptop is worth buying. It offers a high-end graphics and a 11.6 inch display.
Price: $799
7) HTC Droid Incredible (Verizon Wireless)
To secure its position in the market HTC released its HTC Droid Incredible smartphone that soon became the Verizon's top smartphone. with its extra-ordinary design and blazing fast speed, this HTC Droid Incredible is one of the most popular Android powered device in the market. Enhanced features coupled with Verizon's 3G network, this smartphone offers you some mind blowing features that includes 8-megapixel camera, 8GB of internal memory, Wi-Fi, Bluetooth, GPS, and 3G connectivity onboard.
Price: $199
Canon Digital Camera EOS 550D
This Christmas be ready to capture the greatest shot in stunning detail with this EOS 550D from the house of Canon. Capture your story, be it stills or movies this innovative DSLR of Canon gives you the creative freedom to capture the best shot. It offers a gamut of impressive features such as 1080p HD video recording (with full manual control), an 18MP CMOS sensor, 3 inch 3:2 LCD with 1040k dot resolution and the 63-point iFCL metering system first seen on the EOS 7D.
Price: 594.03 (Exc VAT)
9) Parrot AR Drone

The Parrot AR.Drone is a quadricopter that is piloted using an iPhone, iPod touch, or even an iPad. When the device is powered up, it starts broadcasting its own WiFi network. Using the companion Free Flight [Free] app, you connect to this wireless network and begin controlling the unit. The network it creates isn't encrypted at all, but the AR.Drone does bind itself to the first device that connects to it to prevent other people from hijacking your flight session. Unpairing your phone is as simple as pressing a small button on the underside of the device. Isn't it too exciting? It is designed to showcase the fact that technology has filtered down the world of video games.
Price: 299
10) Toshiba BDX3000 3D Blu-Ray player
This flagship model from the house of Toshiba is the company's first 3D Blu-ray player. The player boasts of a WiFi connectivity that provides wireless streaming of movies and it is equipped with content from Netflix, VUDU, Pandora, and more. It supports multiple audio formats and also has an Ethernet connection.
Price: $250
Filed under:
Apple
,
Featured Article
,
Sony
,
Toshiba
,
iPhone
Tags:
Alienware M11x Gaming Laptop
,
Apple iPad
,
Black friday
,
Black Friday 2010
,
Canon EOS 550D
,
HTC Droid
,
Microsoft-xbox
,
Parrot AR Drone
,
Plastic Logic Que E-Reader
,
Sony Walkman NWZ-W250 Sony Walkman
,
Toshiba BDX000 Blu Ray Player
,
Toshiba Cell TVs