Top 5 3D Laptop Review
By parthodeep, Gaea News Network
Monday, June 21, 2010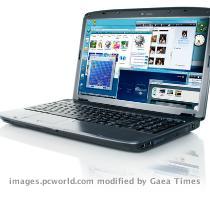 more images
Tech world has undergone a leap from 2D to 3D and the laptop . The basic feature with the Laptops includes a 3D screen, software and glasses. The software transforms 2D movies into 3D. The photos can even be viewed in 3D. The display is clinged to the panel pixel by pixel enabling the LCD technology to offer 3D visuals by wearing polarizer glasses. Moreover the laptops are panoramic for running 3D Games. If you gotta get one just look for the best. We decided to review the top 5 3D laptops just for you.
ARTICLE CONTINUED BELOW
1. ASUS G51J 3D laptop
When will 3D make up its mind . This is an exclusive gaming laptop with 3D vision technology that works with the aid of an infrared module. With its pair of glasses users can view digital content on the laptop in a perfect three dimensions. It's easy to view the digital content on the laptop in glorious 3D
With an Intel Core i7 processor and 4096MB of DDR3 memory, this 3D laptop is impressed in benchmarking and we had no issues playing resource intensive games – including Crysis – thanks to the use of a nVidia GeForce GTX 260M.
The 1TB of harddrive offers comprehensive storage options and there are also Blu-ray optical drive (read only). For all the high definition fans out there it's just a shame that 15.6 - inch panel only features 1366×768 pixel resolution.
WIthout a garish of design, the blue lid does appeal to the chav within, which makes it a bit of guilty pleasure and build quality is generally great but the keyword - featuring ASUS's style is a little spongy, which most of the users might not like.
The 3D laptop is great with connectivity HDMI port. It revealed the world's first mainstream 3D laptop, Acer Aspire 5738PG
2. Toshiba Satellite A665 Laptop
Toshiba Satellite A665  is a 3D-ready laptop powered by Nvidia's Vision technology. It features a 15.6-inch diagonal TruBrite LCD display, LED backlighting, 120Hz refresh rate, a rewritable Blu-ray Disc drive and integrated Harman/Kardon speakers.
The system also boasts of an Intel Core i7 quad-core processor with TurboBoost technology, Nvidia's GeForce GTS 350M, 1 GB of GDDR3 video memory an LED backlit keyboard and a wide TouchPad.
The Nvidia 3D Vision Kit, which is packaged along with the Satellites A665, includes software a pair of wireless active shutter glasses and an emitter. There is actually a huge amount of pent-up demand for games such as Avatar and other content.
The 3D laptop takes PC games and entertainment to a whole new level.
Key features
Windows 7 Home Premium operating system
4GB DDR3 RAM.
640GB hard drive.
802.11b/g/n wireless9 and 10/100/1000 Ethernet.
Bluetooth V2.1 + EDR10.
HD impact sensor.
12-cell battery.
One eSATA/USB combo port with USB sleep-and-charge and three USB 2.0 ports.
HDMI port.
Integrated webcam with face recognition.
Microphone input port with Toshiba sleep-and-music.
5-in-1 memory card reader and ExpressCard slots.
3. Acer Aspire 5738DG-6165 Laptop
The Acer Aspire 5738DG-6165 grafts a 3D panel onto a mainsteream laptop.
The special 3D layer on top of the screen thankfully doesn't cause any nasty side effects when you're not using the 3D glasses.  The laptop is just a basic mid-range Aspire inexpensive just $779 even with the 3D glasses and capable enough for most folks nit looking for a screaming gaming
Try to fireup the program's main interface and you can open specific 3D video files which can really leap off the screen. The software is supposed to add depth to any movies that you pop into the internal DVD drive. The DVDs of Top Gun and THere Will Be Blood looked reasonably good. On top of that the 3D effect works with video files on your system. The WMV and AVI clips runs well. User have been reported complaining about some roadblocks with QuickTime video and TV shows recorded on Windows Media Center.
The 3D effects added to the videos from Netflix Instant Access and Hulu streaming. The developers need to create drivers and plugins that work inside programs.  The next icon on the software menu launches a 3D photo viewer. The sample images are no doubt tweaked to pop off the screen, but the feature worked equally well with images that took on a trip to New Zealand. The trees grew out of the panel in nature shots and geysers erupted. Besides 3D functions in general 15.6 inch panel is reasonably bright and crisp. The average experience with regular 2D content, allows pretty good color reproduction.
2.2GHz Core 2 Duo
4GB of RAM,
ATI Radeon HD 4570 graphics
4. Lenovo Y560d Laptop
It features a 15.6 inch, high-definition 16:9 widescreen. Apart from showing the 3D content, the TriDef software can also be used to convert 2D videos and photos to 3D. The laptop includes Lenovo technology for merging solid-state drives and hard-drives within a notebook. Such systems use an SSD for faster boot up to improve performance of  frequently used applications. These systems use an SSD for faster boot up to improve performance of frequently used applications.
The Y560d is available with up to an Intel Core i7 processor and Advanced Micro Devices ATI Radeon HD5730 graphics card. The system is also available with up to Intel Core i7 processor and disc player, it has an integrated 802.11n Wi-Fi available as an option.
Y560d will ship with Windows 7. It is scheduled to be available by the end of the month. The price would start at $1200.
5. Satellite A665 3DV laptop
The Toshiba prototypal 3D laptop is a stylish and chic model with With its standard 12 cell battery, the 3D laptop starts at 6.4lbs and offers a battery life of up to 4 hours and 25 minutes. Satellite A665-3DV makes a perfect 3D vision with 3D software, 3D glasses, and a display screen that is ready for 3D.
Key Features
Intel Core i7-740QM processor
4GB of DDR3 RAM memory
Graphics card powered by a nVidia GeForce GTS 350M with 1GB
hard-drive
640GB