Toshiba Tegra 2 Android Honeycomb tablet : A Brief Preview
By Turjo, Gaea News Network
Monday, January 3, 2011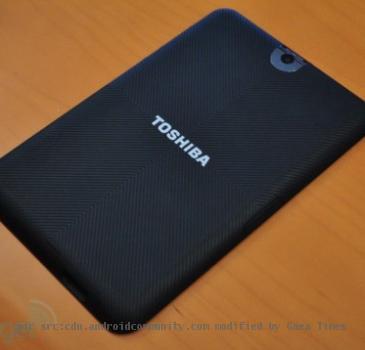 more images
Popular gadget site Engadget was lucky enough to try out a non-functional prototype of Toshiba's Tegra 2 Android Honeycomb Tablet which will be unveiled at CES 2011.
ARTICLE CONTINUED BELOW
The NVIDIA powered Tegra 2 slate has a 10.1-inch 1280 x 800 capacitive touchscreen along with twin cameras. The front camera is 5 megapixels while the 2 megapixel front facing camera will be used for video calls. Beside the presence of accelerometer and ambient lighting sensors, the tablet will have various connectivity including HDMI, USB, mini-USB and an SD card reader.
The entire device weighs around 1.7lbs and measures 0.6-inches in thickness. The rear panel, which is finished with a rubberized, spill-resistant coating, ca easily be replaced with different colored alternatives, as well as offering access to the user-changeable battery.
Although this new Android tablet has been previewed before CES 2011, we won't be able to buy it until Google releases Android 2.4 Honeycomb. As Google is rumored to be releasing the Honeycomb in late February or early March, the pricing of Toshiba's new Tegra 2 android tablet will not be known before mid 2011.