Verizon to Sell Galaxy Tab at $599
By Soumitra Mondal, Gaea News Network
Thursday, October 21, 2010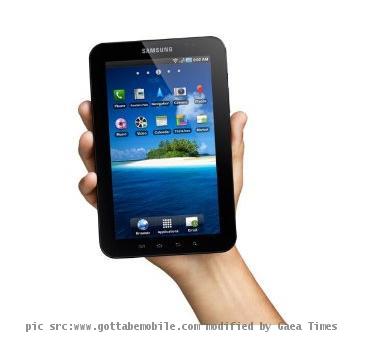 more images
Samsung's Galaxy Tab will be on sale for $599.99 without a contract from Verizon from November 12. You'll get the options of purchasing Samsung's Android tablet with Verizon's various new data plans, for e.g. 1GB for $20 a month. It was announced that in contrast to the traditional white, this time Verizon version of the Galaxy Tab will have a solid black background. The touch-screen 7-inch computer will be available with 3G connectivity.
ARTICLE CONTINUED BELOW
This Android 2.2 based unit comes with the application of V CAST. Robust HTML Web browsing experience is available with full support for Adobe Flash ver.10.1 for watching video and gaming in this device. It has a processor of Cortex A8 Hummingbird Application clocking at 1GHz. Consumers and business customers will not have any complain with the options available in this tab and it will be a great help to manage their busy lives.
Popular mobile applications, including VZ Navigator, Kindle for Android, Slacker Radio, and Blockbuster on Demand presented by V CAST Video, and including a golf game, named "Let's Golf," will be available on the Samsung Galaxy Tab. The usual features like text messaging, picture and video messaging are available too.
Although Verizon will be selling this tablet with a reduced price but the amount $599.99 may be a little higher for some consumers. It seems that the consumers will have a tough time choosing this Android tablet to the iPad, which is already quite popular in the market.
Verizon seems to be expanding its market beyond mobile phones with the launch of this mobile phone. Their aim may be to increase their income by making profit on the data plans. Do you think it'll give a tough competition to the iPad? Share your thoughts in the comments section.