Vodafone Introduces HTC Desire Z at £35/Month
By Turjo, Gaea News Network
Tuesday, December 7, 2010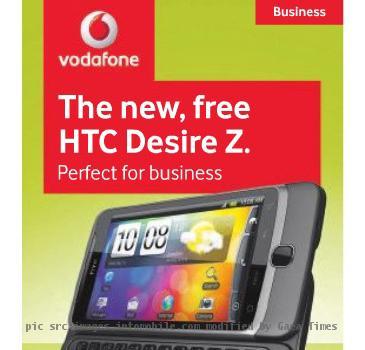 more images
Telecom giant Vodafone has decided to bring a smile to it's customers face as they plan to give out HTC Desire Z for only £35/month. They are also planning to introduce various tariffs that will be available with this phone
ARTICLE CONTINUED BELOW
HTC Desire Z is the hottest Android based phone introduced by HTC this year. It is a 3.7 inch phone with a 800GHz processor and a 5MP camera.
Here is brief specification of HTC Desire Z -
Android 2.2
800GHz (Qualcom Scorpion)
512MB RAM
2GB Storage Capacity (with MicroSD slot)
3.7 inch "Super LC" screen
QWERTY Keyboard
5 MP Camera
Vodafone is giving away this phone for free with a £35/month plan. The plan includes 900 minutes and 750MB of data. If you think the plan is a bit step, you may go for another plan where they're asking £199 for the phone and £25/month for 100 minutes, 500 texts and 500MB of data.
So, anyone interested on picking up an HTC Desire Z from Vodafone? Do tell us your experience, views or suggestion through our comment section.