Western Digital's Live Hub TV soon in markets at Rs. 9,999
By Soumitra Mondal, Gaea News Network
Tuesday, December 14, 2010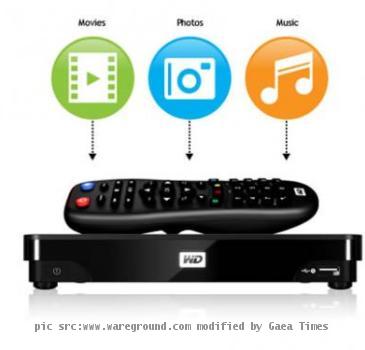 more images
Western Digital has announced the arrival of its next series of digital media player models in India and Middle East. The model is called a "Live Hub" and it is a Full-HD 1080p media player which has the capacity of storing and playing a wide range of personal contents of the users' such their own photos and video.
ARTICLE CONTINUED BELOW
Like every other MNC brand, Western Digital has its own reasons for eyeing at the Middle East and Indian market. According to Khalid Wani, Western Sales director for India, Middle East and Africa,
If you look at the media player market as a whole and the content generation that happens in the Middle East, it is a very big market, important market for us.
So what does the Live Hub has to offer? Apart from cool stylish black body with curvy and easy to hold handy remote it has several interesting features to offer. It has one TB of hard drive and it is designed to replace the age old separate storage device or NAS. It allows the users to play hard drive as well as flash drives on it through USB Port connectivity.
Another significant and unique change in the Hub is the development of a new interface. This one is the most user friendly feature yet to be seen on any other media player. It gives the users a quick browse through their entire media collection. WD allows the users to skip through 16 names at a time. Some devices till now allow only one name at a time which is quite laborious and time consuming.
The media centre allows the users to access the internet for social networking, streaming music and videos and even uploading content to Sites like Youtube and Facebook. It also gives accessibility to services like Flickr and weather. It's just like internet being accessed from your TV sets. The device will be available near the year end at only 9,999.