Windows 7 Phone: HTC HD7 Rocks!
By Arnab Ghosh, Gaea News Network
Thursday, November 18, 2010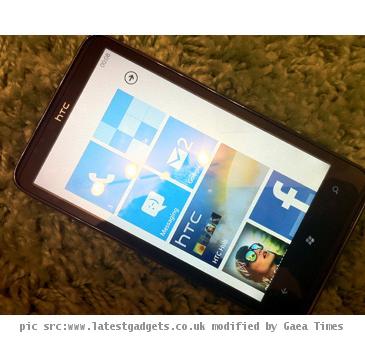 more images
SAN FRANCISCO (GaeaTimes.com)- Ever since Microsoft announced about the Windows 7 phone platform various phone makers have come up with their renditions of the device. The latest Windows 7 phone entrant in the scene is the HTC HD7. The first thing that strikes one about the phone is its sheer size. The screen is 4.3 inches, way bigger than most of the smart phones. This also means that people with big fingers would not face any problem in typing using the bigger on screen keyboard. Of course, reading emails and text messages will prove to be easier using this model. The only caveat is that the resolution at 480 x 800 is good but not better than the iPhone's 640 x 960 display. Had it been bigger the interface would have looked even more gorgeous.
ARTICLE CONTINUED BELOW
However, the Windows 7 phone interface looks better than the iOS used in iPhone. However, the interface is not as intuitive as iOS for that matter. The Windows 7 OS used in the HTC HD7 offers tight integration with social networking services which are all the rage these days. HTC has packed in the HTC Hub application with this phone and there are a few other useful additions. However, it is a pity to see that the beefy 1 GHz CPU of the HD7 coupled with 576 MB RAM can not ensure stutter free YouTube video.
However, it would be wrong to say that the Windows 7 phone from HTC aka HD7 is an iPhone killer. It falls short on audio experience department. The sound by no way matches the size and looks of the phone. With OS updates some issues can be ironed out though.